2022 Chrysler Pacifica in Fort Worth Weatherford Granbury TX For Sale
2022 Chrysler Pacifica in Fort Worth Weatherford Granbury TX For Sale



The 2022 Chrysler Pacifica in Fort Worth Weatherford Granbury TX For Sale is a brand-new vehicle. What distinguishes Pacifica from previous iterations? What about everything else? This is a revolutionary new vehicle that brings you cutting-edge styling on the inside and out, top-tier technology such as the Uconnect Theater system, one of the most advanced Hybrid systems available today with impressive fuel efficiency, up to 8-passenger seating WITH the industry exclusive Stow and Go feature, safety features to rival vehicles costing four times the price of this incredible vehicle, and of course no family vehicle is truly complete without several hands free systems. And that's just the tip of the iceberg!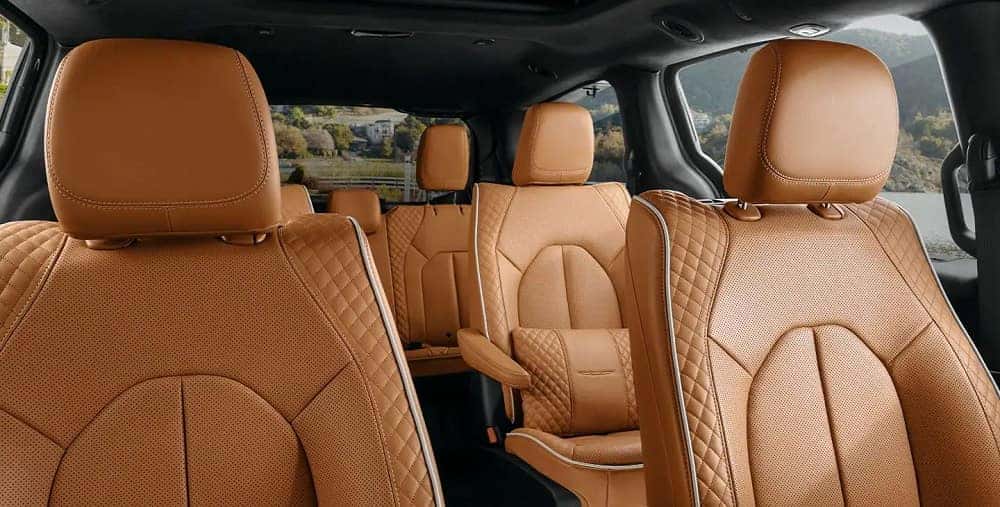 To begin, the 2022 Chrysler Pacifica in Fort Worth Weatherford Granbury TX For Sale has seating for up to eight passengers. This seating, unlike others in its class and even full-size SUVs, is quite comfortable and created with the comfort of the passengers in mind, not just how many people can we put into a car. Add in a revolutionary easy tilt mechanism that allows passengers to comfortably enter the back row, even with a car seat in place, and you have incredible ease of entry and exit no matter your size. You also have the industry-exclusive "stow-n-go" feature, where both the third and second row fold effortlessly into the floor, giving you additional space on the fly, as discussed in the preceding section. This technology has been fine-tuned over time and is now so simple to use that even a toddler can securely and simply operate it. Cup holders, nooks, crannies, and storage compartments are strategically placed around the vehicle to provide optimal storage for any loos goods you bring along. Finally, the most powerful built-in vacuum system in the class, Stow 'n Vac, completes this extraordinary and outstanding interior. Having a vehicle like this means crumbs and messes will inevitably occur inside, and while Chrysler is not the first to include a vacuum into a vehicle of this type, it is the best. The Stow 'n Vac system outperforms the competition by taking into account what customers have to say about current systems, such as insufficient suction and inability to reach across the entire car. It can easily access the entire car and, even when fully extended, has enough suction to clear up even the heaviest of messes before returning to its cubbie with ease and out of the way when you're done.
2022 Chrysler Pacifica in Fort Worth Weatherford Granbury TX For Sale appearance was created to be the first to be described as sexy! This van's design is elegant, the lines flow, and it appears seductive from every angle, giving it a sexy appeal. However, the design was not solely driven by aesthetics; it is also extremely useful and aerodynamic. The glass positioning is calibrated for optimal visibility, and the technology integration is outstanding. Back-up camera, full 360-degree surround vision camera system, and front collision warning plus, which acts as an extra set of very clever eyes observing the road for you and applying automated brakes if necessary. Radars are also fitted into the car to provide blind spot monitoring so you can make sure your lanes are free to the right or left before switching into them. Advanced vehicle technologies such as lane departure warning keep an eye on the lanes for you and will alert you if you begin to drift, and one of the best features is the adaptive cruise control built in, which will keep a predetermined distance for you and speed up/slow down as needed to avoid collisions, so all you have to do is steer… even brings you to a complete stop, which is really convenient, especially in congested areas!
For its size, the 2022 Chrysler Pacifica in Fort Worth Weatherford Granbury TX For Sale is an extremely fuel-efficient vehicle. It earns the best in class 28 mpg on the highway thanks to the strong Pentastar 3.6L engine that comes standard. Are you interested in the innovative hybrid system that is now available? How do you like the sound of an amazing 80 MPGe? This vehicle proves that you don't have to sacrifice performance for fuel economy by not only putting out those figures, but also having the greatest horsepower and torque in its class. But hold on…more! When properly equipped, this vehicle can pull up to 3,600 pounds, making it ideal for transporting items that are too large to go inside or for relocating. No need to rent an Uhaul now! To top it all off, the vehicle handles incredibly well. The car's intuitive technology helps you stay on track, lowering the amount of oversteer you'd expect in a vehicle like this, and the technologies all work together to make it feel much lighter and smaller than it is, so you don't feel like you're driving around in a bus or a large SUV.
There are various trim lines available for the 2022 Chrysler Pacifica in Fort Worth Weatherford Granbury TX For Sale. Each one has a distinct focus for the customer. The first trim level is the most cheap, making it ideal for those on a tight budget. This one comes equipped with everything you'll ever need in a vehicle of this type. The next two bundles are the most popular, ideal for the 80 percent of those who prefer a good middle. Different levels, each with their own set of equipment packages, you'll almost certainly discover the right one for you in this series. The top of the line is for people who want the most luxurious journey with all the bells and whistles. There aren't many options here because everything is standard.