2022 Jeep Grand Cherokee L in Fort Worth Weatherford Granbury TX For Sale
2022 Jeep Grand Cherokee L in Fort Worth Weatherford Granbury TX For Sale

The 3-Row
2022 Jeep Grand Cherokee L in Fort Worth Weatherford Granbury TX For Sale
is one of the most wanted and anticipated SUVs in recent history. We are overjoyed to announce that Jeep has finally answered the call and released this amazing version of the worlds most awarded SUV in history. Come in today to take a look and be one of the first to buy this incredible new SUV. With this all new iteration, it is ensured to earn even more accolades and awards than ever before keeping it at the top and Champion of the segment. The bar just got raised, and with 3-rows! Continue reading to learn everything there is to know about this fantastic new SUV and why nothing else on the market today can even be considered competition!



This article will begin with the eye-catching exterior of the 3-Row 2022 Jeep Grand Cherokee L in Fort Worth Weatherford Granbury TX For Sale. This is a whole new look, as you can see above. Not merely refurbished, but completely reworked to maintain this masterpiece at the forefront of the SUV sector. The classic 7-slotted grille and trapezoidal wheel wells remain, but the exterior of this beast breaks the mold with a more chiseled front-end look, fashionable wheels, and innovative lighting features for premium visibility when darkness falls while still preserving a smooth and sexy look during the day. This is a stunning SUV from every angle, and it will undoubtedly make one the envy of their neighbors, acquaintances, and coworkers.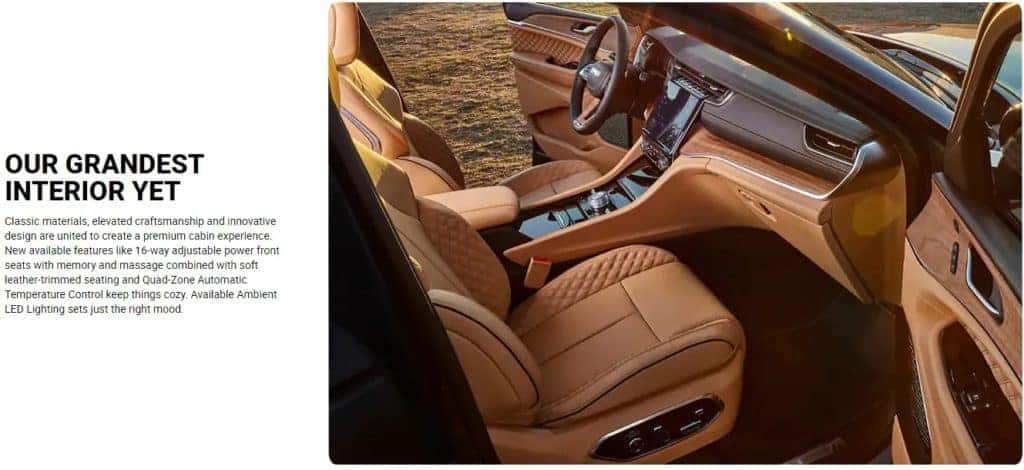 The interior of the 2022 Jeep Grand Cherokee L in Fort Worth Weatherford Granbury TX For Sale 3-row SUV is next. In a single word, the inside of this automobile is "heavenly". It's astonishing how magnificent the inside is at every pricing point, but the highest tier as seen above clearly has the finest of everything. This is one of the most luxurious SUVs on the road today with diamond stitching, new seat designs, new trim materials, leather imbued throughout, including on the dash. Fresh new technology in the center console, ambient interior LED lighting highlights, and even massaging seats make this vehicle the top of its class. come in today and take just one test drive in this magnificent vehicle, and you will realize that Jeep has stopped at nothing to cater to your needs and give you everything you have ever wanted in a mid-sized SUV. The automotive business is evolving, and consumers are demanding more from them than ever before…Jeep has taken on the challenge and delivered!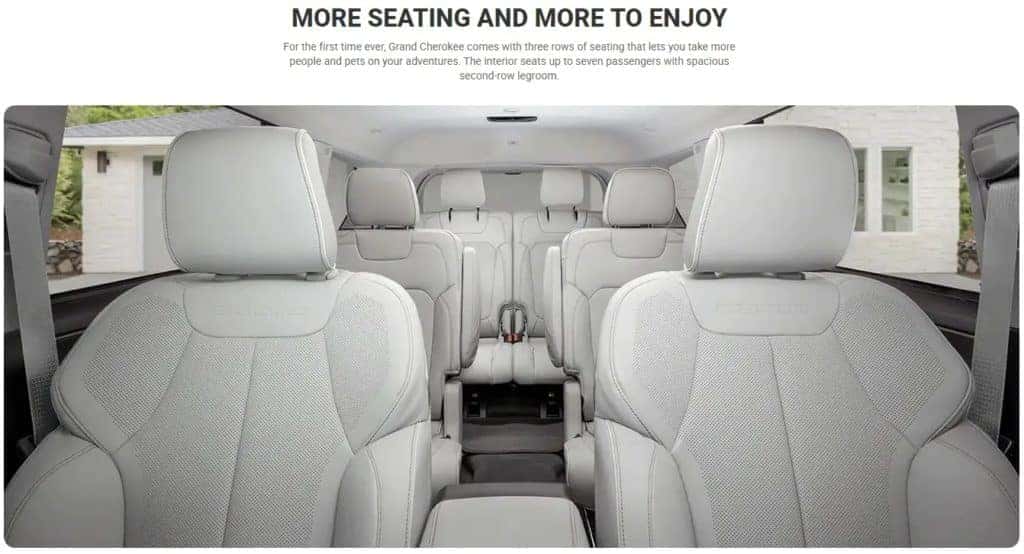 We can't talk about the interior of the 2022 Jeep Grand Cherokee L in Fort Worth Weatherford Granbury TX For Sale 3-row without mentioning the all-new seating options! This is the first year that you will be able to accommodate up to seven passengers, and the response from our customers has been very positive. For years, this has been one of the most desired configurations on this SUV, and when Jeep came out with the news that it was finally arriving; the industry was turned upside down in an excited frenzy! Jeep realized it couldn't just throw in a bench and call it a day; it needed to go above and beyond in terms of space, versatility, and comfort. That's exactly what they did as well! Unlike most three-row vehicles, this one can accommodate full-sized adults and, for the first time, they will actually be comfortable in the 3-rd row! Add in the premium materials used throughout the cabin along with a slew of elite benefits, and you've got a three-row SUV unlike any other that outperforms them all in terms of comfortability.



2022 Jeep Grand Cherokee L in Fort Worth Weatherford Granbury TX For Sale is additionally loaded with many more points and tools you are certainly going to fall in love with, for Jeep, many of these are a first. These items include but are not limited to an integrated night time imaginative and prescient camera that gives you actual time scans over 200′ away the use of thermal technological know-how in order to discover and isolate people/animals; radically minimizing the chance of an accident at night time. There is also an all new Heads-Up-Display (HUD) which projects automobile facts such as the speedometer right onto the windshield so that you wont have to pass your eyes off the road to see your vehicle speed. These are simply two of the many new elements on hand with this excellent new SUV. In the image above you will see four more facets, but to maintain the full listing of equipment, features, characteristics, and benefits here would however transform this page into a novel, so those are just the highlights we have chosen to showcase on this page for you. If you desire the full list, we would like to inspire you to reach out to us and request whatever information you are looking for so that we can accommodate your needs. We will be more than happy to break down the several trim lines as well to help you make an educated decision on which would be best for you and your lifestyle. Are you ready to turn heads anywhere you go? Contact us today!