2022 Jeep Grand Wagoneer in Fort Worth Weatherford Granbury TX For Sale
2022 Jeep Grand Wagoneer in Fort Worth Weatherford Granbury TX For Sale

It is here, finally. After so much anticipation the world can now experience the all-new
2022 Jeep Grand Wagoneer in Fort Worth Weatherford Granbury TX For Sale
, in all its glory. There are 2 versions of this amazing new model, a Wagoneer and a Grand Wagoneer. The entry level is the former while the more equipped and premium version is the later with the "Grand" attached to it. Both are incredible and regardless of the version you decide to pick, you will be in for a treat. With all versions of this vehicle are built in America and this Jeep is redefining the SUV segment with elegance, poise, and pride like never before. From its looks on the outside, the refinement and luxury on the inside, and the industry leading technology baked right into the SUV, there is no other like it on the road today. Now is the time to come in and take a look at the future of the industry.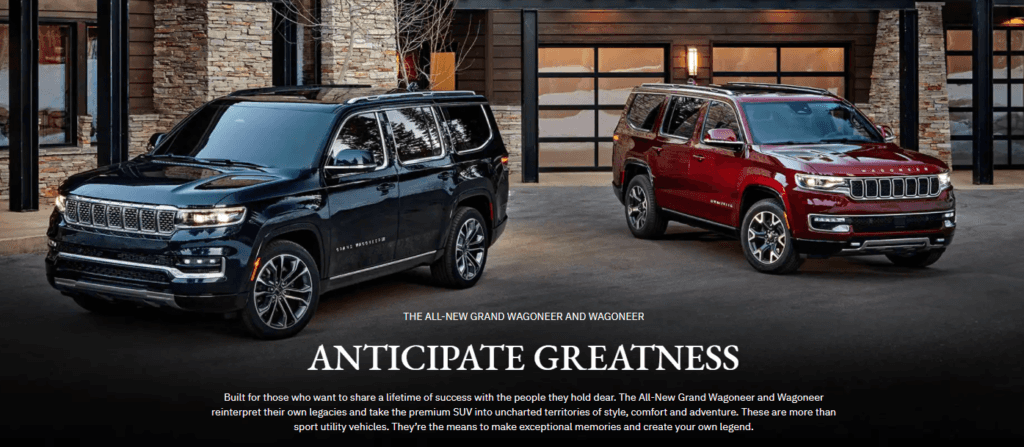 2022 Jeep Grand Wagoneer in Fort Worth Weatherford Granbury TX For Sale is the latest and greatest of what Jeep has to offer. This vehicle is leading is several categories and not just in its SUV segment, but the entire automotive industry, outperforming top manufactures that are more than twice and even three times the cost of this unbelievable SUV. With the exterior of this vehicle, Jeep took the refined approach to give you as much form and functionality as possible while maintaining a modest presence. While this SUV does look good, Jeep didn't want to go out of its way to make it too flashy but rather have the Jeep stand on its own laurels as it racks up the awards and accolades over the years. You can clearly see the Jeep heritage in the design though. The iconic 7-slotted grille, trapezoidal wheel wells, broad stance, and other Jeep highlights makes sure that anyone who sees it unmistakably identifies it as a Jeep and no other. Adding to Jeep accents, the manufacture has stuck with its traditions of including little "Easter Eggs" throughout the vehicle to give its owners some fun details to seek out and some to stumble upon as you own it. Lastly, when it comes to the exterior there are some customization options you are sure to love with different trim lines, packages, and super-stylish wheel designs to pick from. And with this being a Jeep, there are sure to be countless aftermarket customization accessories to pick from as the years unfold to really personalize the SUV to you.

Please click on the video above, if you have not already to watch a short 5-minute clip to go over this incredible
2022 Jeep Grand Wagoneer in Fort Worth Weatherford Granbury TX For Sale
. While watching it you will see all the most premium features available in the industry displayed against the vast American landscape. Included in these features is nuances like the most cargo volume behind the 3rd row in its whole class. When it comes to luxury finishes you will notice things like authentic walnut placed throughout and quality finished metal in places that are typically flimsy plastic giving it a true elegant and high-quality finish. The impressive features are not just limited to luxury touches though, you also are getting one of the most capable SUVs ever produced with the Selec-Terrain system that has 5 different drive modes. Stay comfortable with 24-way adjustable front seats and integrated massage as well while enjoying a campfire video right in your High-Definition Media Center and 4-zone automatic temperature control to ensure everyone is happy. Last, but far from least, in this section we want to point out that the vehicle has an adjustable height. With a toggle of a switch you can change the height of the whole vehicle by up to 10 inches…that is just under 1-foot! WOW.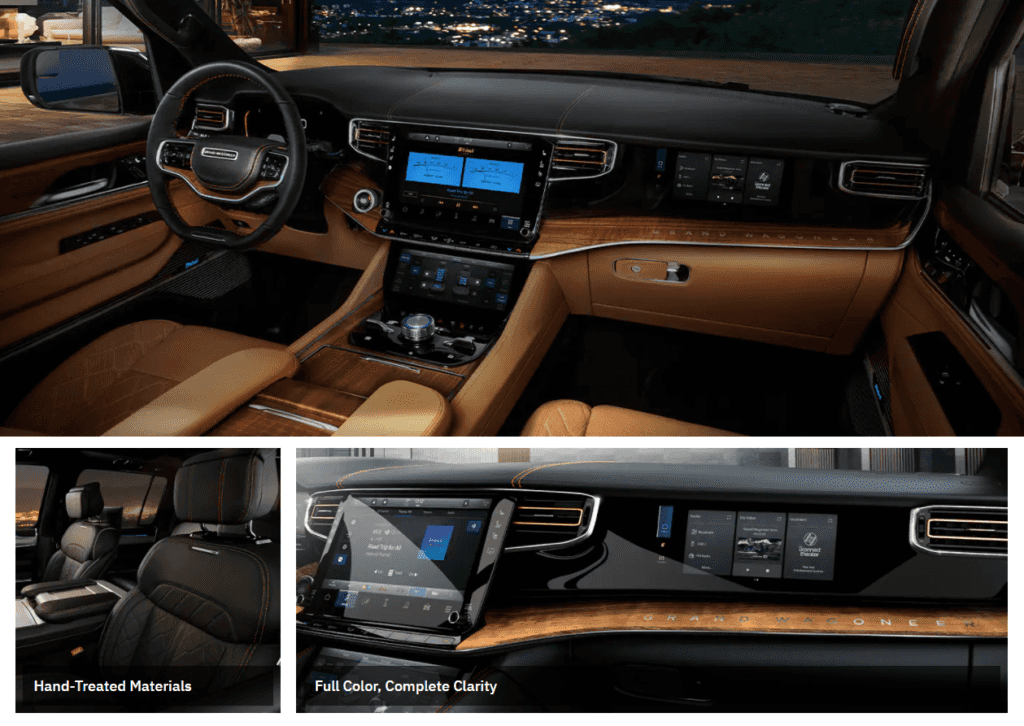 With the 2022 Jeep Grand Wagoneer in Fort Worth Weatherford Granbury TX For Sale, you get all the capability of Jeep. This means unparalleled off-road performance AND on-road as well. The surround view camera and trailer hitch line-up assist allow you to get a birds eye view of the vehicle in tight maneuvering situations and hook up to any trailer with ease and by yourself confidently without a spotter needed. While we are talking trailers, lets not forget to point out that this SUV does tout the Best in Class Maximum towing capacity. The Heads-up display that projects right onto the windshield gives you vital information without you having to take your eyes away from the road. Things like current speed limit, current actual speed, vehicle proximity, and even navigation instructions if you desire. Another Best-in-Class feature of this unbelievable SUV is the most overall passenger volume, ensuring that everyone has enough room to themselves for maximum comfort and luxury. Want technology? You get it here with up to 75 inches of total display, that is over 6-feet of interactive display screens! A 10.25 inch for the front passenger on their side, displays for the back seats, and not 1, not 2, but 3 different screens in the center console. There is no other vehicle in the industry that comes close to this level of intuitive technology, and you are going to just love it. Wrap it all up with an audio system unmatched by most with 24 speakers throughout and powered by Macintosh. Welcome to the future of luxury and capability.

Are you ready to own a piece of history? We are here to help you do that and to become a proud owner of this magnificent
2022 Jeep Grand Wagoneer in Fort Worth Weatherford Granbury TX For Sale
. If you want to see the reveal of this vehicle, the video just above is the full 13-minute world reveal where you can experience what the world experience as this vehicle was first introduced. You will be able to see all the attention to detail, care, thought, and dedication that was put into making this vehicle nothing less than perfect for you today. On this page you may have noticed buttons to help you through your vehicle buying journey. We have inventory links at the top and bottom. Don't worry if you don't see one in inventory, these are going almost as fast as they hit the ground, but we can get you anything you desire. Just contact us, let us know what you are looking for, and we will do all the leg work for you and bring it in for you to take home even if we have to order you one straight from the factory built perfectly to your every desire, for no extra cost of course. You will also see buttons for us to appraise your vehicle online, get pre-approved, and even schedule your test drive. If you don't have a lot of time on your hands, in a lot of cases we can even bring the vehicle to you at home or work for you to take a look at and test drive for added convenience. You want it, you deserve it, you get it…but only at Shottenkirk Chrysler Dodge Jeep Ram of Granbury. Home deliveries available!